Gravesite Locator
Gravesite Locator enables guests to find their loved ones and access your cemetery map in a convenient way – on site from a kiosk, or online via web browser. Provide the public with 24/7 access to your rules and policies, eligibility requirements, pre-registration forms, hours of operation, and more.

If you are already a customer, login to the administrative (admin) portal to manage and edit your content.

Select 'View Cemetery List' to access any of our customers' live web content, or read more below to learn about the software and kiosk hardware that we offer.
Honors our nation's Veterans
Helps visitors find their loved ones
Enhances customer experience
Continuous 24/7 operation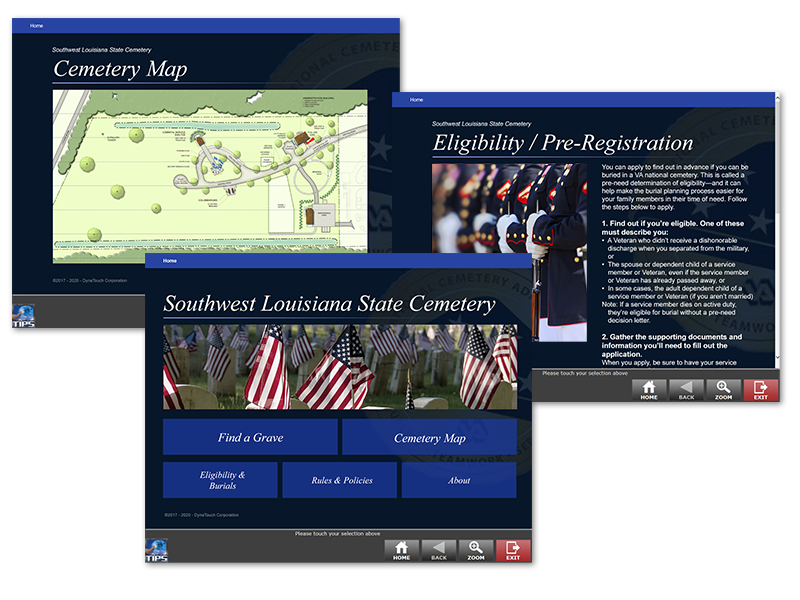 Kiosk Application Software & Content
Professionally designed user interface
Intuitive, touch-friendly design
Attract loop graphics when system is not in use
Pre-set informational pages with:

eligibility & pre-registration
burial specifications
burial scheduling
military honors

Online tool to choose which pages and menus to use
Online text editor to add/modify your own text
Option to include your own printable cemetery map
Option to provide your own images/photographs
Indoor/Outdoor Through-the-Wall Model
Brushed stainless steel enclosure
Cast aluminum signage
Antiglare touchscreen monitor (17")
Laptop rather than PC-based, so display is viewable when servicing from backside
Optional wide format thermal printer
Indoor Floor Standing or Countertop Model
Metal podium stand with small footprint or VESA desktop stand
Oval sign panel with vinyl detail
All-in-One touchscreen monitor (17″) with high-speed Intel processor
Compatible with network printer
Optional keyboard